Family man, and football coach, Ruben Woods has dedicated his life to being part of a team and enriching all of the members within it. Ruben has maintained an infectious passion to fitness and health. His commitment to excellence and self-determination has been an inspiration to many in his community, ultimately bringing together many to achieve their personal wellness goals. After a number of years working at various gyms in San Diego, Ruben joined Art of Eight and quickly found himself a new home away from home.
As Family Man and Community Leader
As a family man, Ruben's greatest accomplishment is having his two children, Jaelynn and Mark. When he's not working or coaching high school football, Ruben spends much of his time with his family. Family is an important priority for Ruben. His coaching roots were actually based off of his family members. Specifically, Ruben began coaching football to motivate his younger brother and cousins to not only begin playing football, but also to be a part of and interact with their local community.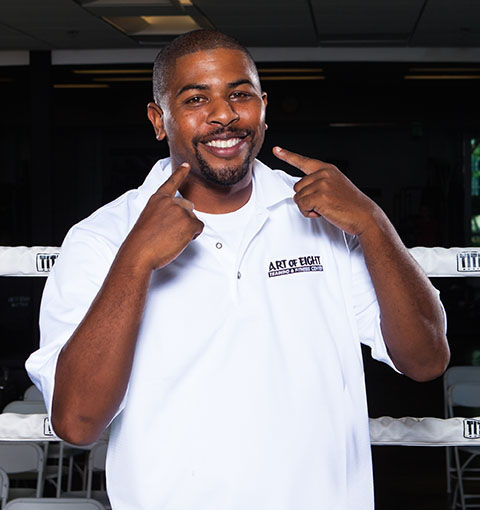 Ruben learned the benefits of working in a team in high school, where he played football and basketball. It was during this period that Ruben began utilizing the high school's gym facilities to "advance [his] football skills and strength." Being that this was such a strong character defining period for him, he then wanted to be an inspirational resource for others to get involved early just like he had done at this young age. Since then, he not only has become a well-known football coach at youth and high school levels, but he also has spent much of his time building experience with management positions at a few different gym facilities.
Why Ruben Chose Art of Eight
Ruben's favorite part about Art of Eight is the welcoming family environment. Ruben says Art of Eight is the most welcoming gym he has ever been a part with some of the most genuine co-workers and trainers he has ever met. He even says that no other gym "comes close to the family atmosphere that Art of Eight has."
It is no secret that Art of Eight has a wide variety of fitness and instructional classes in Muay Thai, Boxing, and other disciplines. However, the key that keeps this variety of classes different from other gyms, is the enthusiastic trainers and staff at Art of Eight that help motivate and instruct the members. Art of Eight instills this mutual positivity amongst all that interact within it. It is this reason that Ruben chose to commit to the Art of Eight community.
Commitment to a Larger Message
To Ruben Woods, success is the result of hard work and perseverance. Although this is a familiar statement to many, not many actually live by this statement. However, to Ruben hard work and perseverance in achieving goals is a lifestyle. With this lifestyle, Ruben has been able to not enrich himself and his family but he has been able to enrich a community. He helps others by giving people the insight and encouragement they need to effectively live a healthy and wholesome lifestyle.
Assisting others within the community and at Art of Eight is Ruben's larger message. As it relates to helping others, Ruben always says that it "gives me the ultimate high because this is the reason why I do this, to help people."